Diane
Office Manager (and Dr. Boutin's spouse)
Hello/Bonjour! I help Dr. Boutin ensure the office runs smoothly. I've been working in the background ever since he started the practice. I earned my B.Sc. and B.Ed and worked as a high school teacher for years. It's such a pleasure to see work with all the children, teenagers and parents that come through our doors here at the practice. Orthodontics helped me with my smile and I love seeing our patients get the same benefits from orthodontics that I did !
Dr. B and I have raised four children together and we also have a cat and a matching dog (they are both the same color !). My leisure time activities consist of walking the dog, scrapbooking all of our family pictures, and being active in our francophone community. I was an elected school trustee with the Greater Southern Catholic and Francophone Education Region of Alberta for seven years, of which six of those I was chair of the board. I very much enjoyed contributing to the province's educational system. I am presently serving as a board member of the Association Canadienne Francaise de l'Alberta (The French Canadian Association of Alberta) Calgary Chapter.
Adrienne
Scheduling Coordinator (Part-time)
My job entails meeting patients and scheduling their appointments. I love meeting new people, especially the kids who always have interesting stories to tell! I'm happy to be part of a team that is professional, respectful, and fun. Dr. Boutin is kind, generous, and a pleasure to work for.
My husband and I are new to Calgary and we love it! We keep busy volunteering when not at work. We enjoy travelling to hot spots in the winter and camping in the summer.
Anna
Registered Dental Assistant (Level II with orthodontic module)
I assist Dr. Boutin, coordinate treatment, and work in administration on the days when the doctor isn't in the office. My favorite part about working here is seeing all the beautiful smiles after treatment and how excited the patients are. Dr. Boutin and Diane care so much about their staff and they love making their patients smile!
I'm a single mom with two beautiful teenage girls. I love driving them to their volleyball practices and watching them succeed at their tournaments and at school. We love walking our dog named Chloe, going on warm-weather vacations, and enjoy spending time with my dad on spring break in Palm Springs.
Brenda
Financial Coordinator
Besides helping to manage a great administrative team, my top priotity is to help our patients with their financial arrangements. When I am able to simplify insurance plans and offer a payment plan that fits their personal or family situation, then I know I've done my job! I love the relationships we build with our patients - I have enjoyed watching many grow up and it is thrilling when I get to see some back in the office with their own children.
Away from work I like to spend time with friends and family, do crossword puzzles, participate in league bowling during the winter, and walk on Calgary's fantastic walking trails during the summer.
Donna
Registered Dental Assistant (Level II with orthodontic module) and Treatment Coordinator
Along with assisting Dr. Boutin with patient care, I also help him present and discuss treatment options with new and prospective patients and their families, transfer digital patient information into our electronic charts, manage everyone's schedules, and provide IT support and equipment maintenance for the office. I've been in the dental assisting field a long time, since 1986, and I still love working with patients and seeing how a new and beautiful smile lights up their faces.
I'm married to my lifelong friend and we both love dirt biking and going backcountry camping in the summer and fall in BC. I also enjoy yoga and love dogs and animals. I try very hard to escape to a sunny climate and beach destination as often as possible to break up the dreary winter days.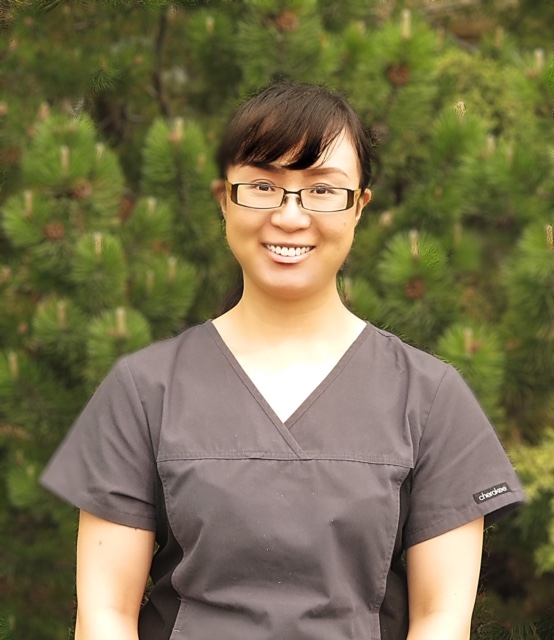 Jannell
Sterilization Processing Technician
I'm responsible for cleaning and sterilizing instrumentsand equipment making them safe for Dr. Boutin and the Dental Assistants to use on patients. I take this responsibility very seriously! I started working at the beginning of 2019 so I am still relatively new to the practice. Working here is great because we are like a family: I can learn from everyone and we have a good time together!
Food is my life! I love trying tasty food with my family and friends. When I am not being a hermit at home, I am watching movies.
Joanne
Sterilization Processing Technician
I'm responsible for sterilizing and preparing medical devices and equipment for use. I've been working at this office since 2011, the same year I started in the dental field. Dr. B is a great mentor and working with the rest of the team is like being with family.
I am a mother to two beautiful daughters. I was born and raised in Saskatchewan, but liked Calgary so much that I decided to move here and begin a new chapter in my life!
Joelle
Registered Dental Assistant (Level II with orthodontic module)
I assist Dr. Boutin chairside and perform orthodontic procedures for individual patients as he prescribes. I also do the majority of the Post-treatment packages we send to our patients who have completed their treatment. After working in general dentistry right out of school, I took a year off with my new baby, then went straight into orthodontics where I found myself with Dr. Boutin a few months later. I've been here ever since!
I'm a single mom of one and love spending time with my two-year-old daughter, Amelie. We have a cat named Odesius and love watching movies together, going swimming, and playing games. I also like to hang out with friends and family, and go travelling and camping when I can.
Julie
Registered Dental Assistant (Level II with orthodontic module)
I'm found working chairside in the clinic and coordinating patient treatment. It's rewarding seeing our patients smile after their braces come off — it's the favorite part about my job. Dr. Boutin has such respect for his patients and fellow team members.
My favorite thing to do away from the office is to spend as much time as possible with my four fabulous grandchildren. I even like their moms and dads too! I also enjoy travelling the world partaking in various mission trips, building community centers, churches, and even digging fence holes for gardening projects in Africa.
Liz
Registered Dental Assistant (Level II with orthodontic module) and Professional Relations Coordinator
I'm responsible for assisting Dr. Boutin with patients and visiting referring dental offices to keep all the lines of communication open. I also coordinate various office events. I really enjoy being able to work directly with people to help them achieve an improved smile. We're like one big family here and try to make every day fun for everyone.
I'm a wife and mother to three grown boys. We try to keep active and enjoy playing all different kinds of sports. It's our goal to try new ones every year!
September
Registered Dental Assistant (Level II with orthodontic module) and Treatment Coordinator
I love to meet new people, make them feel comfortable and help make smiles shine! I am so proud to work with Dr.Boutin and his wife Diane. Our Team is a diverse mix of caring and friendly people each with something unique and differrent to offer. Working as a team is what we have been doing for years and we do our best to Have Fun.
At home I have two dogs and three cats — I love furry things! When I can, I volunteer at an animal rescue center. I love the mountains too and Jasper is my favorite place to be, summer or winter. My best friends still live there and I visit as often as I can. My sister and I also escape to Arizona sometimes to visit my Dad who spends the winters there
Please click here to schedule an appointment!